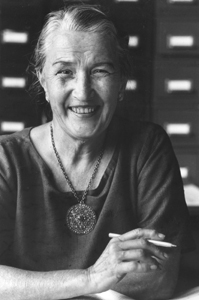 Helen Coley Nauts (1907-2001) was the founder of the Cancer Research Institute and a passionate visionary.
The Helen Coley Nauts Society was established in her honor to recognize those discerning donors who have included the Cancer Research Institute in their estate plans.
As CRI evolves to promote application of its hard won knowledge into current medical practice, it requires investors who look beyond the here and now, and realize that the development of vaccines and other effective cancer immunotherapies depends on safeguarding CRI's financial future.
Joining The Helen Coley Nauts Society is simple. If you have included the Cancer Research Institute in your will or have otherwise included it in your estate plans--through a charitable trust, life insurance policy, retirement plan, charitable gift annuity, or other asset--you are automatically eligible to become a member. If you have not done so already, please let us know about your planned gift to CRI so that we can document it and thank you for your intent.
The array of planned giving options is as varied as the circumstances they serve. Our Development Associate, Emily Livingstone is here to answer any questions you might have about your particular situation. Please contact her at 212- 688-7515 or elivingstone@cancerresearch.org.